Bad Idea is over?
Bad Idea started out the week with the announcement below across their various social media accounts.
While a great deal of comments seem to suggest that some are taking this as a legitimate statement and claiming the publishers entire premise was a *sigh* bad idea, a much larger group are greeting this announcement with some cynicism believing that this is the beginning of the company's next publicity stunt.
Honestly it does feel like the latter is most probably the case, and there has definitely been some suggestion over the past few months that Bad Idea's initial move to release their comics only as single issues available from a limited number of stores would only ever be temporary. This is something we did speculate on not long after the initial announcement of Bad Idea, that the false scarcity of their comics would ultimately be more of a commentary on the comic book industry and intended as a publicity stunt; which could eventually give way to mass availability of their comics, which, to be fair are coming from some very well known and celebrated creators.
Either way we'll be here with any updates as they appear, I'm sure there'll be something interesting coming sooner rather than later.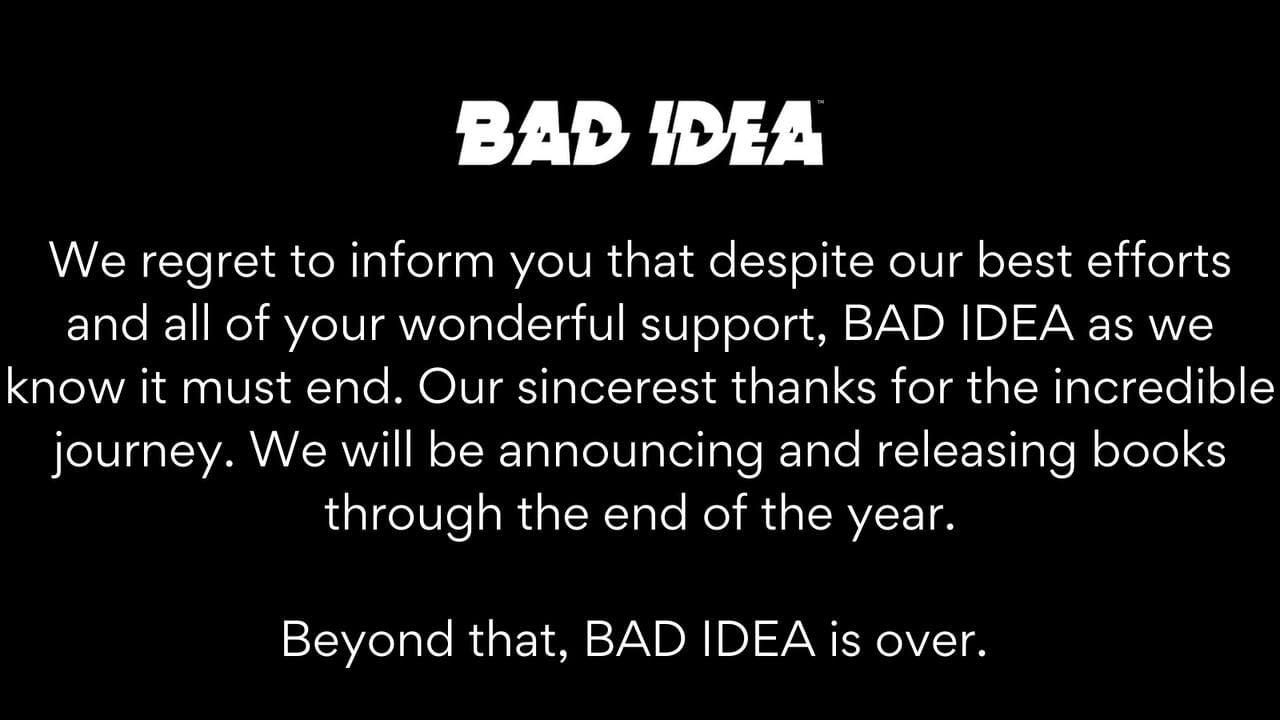 Spawn's Universe #1 is Image Comics top selling first issue of the 21st Century
Todd McFarlane's Spawn's Universe #1 has shattered the record for Image Comics' top selling first issue comic book of the 21st century by selling well over 200K units.
The issue drops on June 23rd and will be followed by King Spawn in August, McFarlane's first ongoing Spawn series since 1992. King Spawn is projected to have even higher sales than Spawn Universe #1, so maybe it won't be holding the top spot for too long.
Plus, let's not forget that Gunslinger and The Scorched will both be added to the Spawn Universe line in October and December respectively. Which are both predicted to sell more than 200,000 units too. Perhaps by the end of the year Todd McFarlane will have crossed the threshold of 200K units with four different titles in less than six months.
If you're still a little bit in the dark about Spawn's Universe (and who can blame you really) each of the titles above are set to expand on the mythology of McFarlane's iconic superhero Spawn, a multi-record breaking and Guinness World Record-holding title that has sold over 120 million copies worldwide since its release in 1992.
Umbrella Academy Series 3 Episode Titles Announced
Umbrella Academy showrunner Steve Blackman has announced the episode titles for the show's third season which is expected to surface on Netflix later this year or at the start of 2022.
I'm sure I'm missing some references, but above all else it feels like 'Oblivion' could well be a reference to the third volume of the comic book series Hotel Oblivion and the intergalactic prison it's named after.
Sam & Twitch Heading To The Small Screen
What's this, double Spawn news?
Independent studio, wiip, who are the studio behind HBO's series Mare of Easttown, are teaming up with Spawn creator Todd McFarlane to develop Sam & Twitch as a TV series. The detective duo of Sam Burke and "Twitch" Williams are two of the longest serving characters in Spawn, making their first appearance back in 1992's Spawn #1.
Jason Smilovic and Todd Katzberg will be adapting the project and acting as executive producers. Previously Smilovic & Katzberg served as the creators and showrunners of the drama series Condor, which will begin it's second season later this year. Todd McFarlane and Sean Canino from McFarlane Films will also executive produce the series alongside wiip's Paul Lee and Mark Roybal; the latter duo have recently served as executive producers for the aforementioned Mare of Easttown, the finale of which recently set the record as the most-watched episode of an Original Series on HBO Max.
Here's what Todd McFarlane had to say in Image Comics' press release:
"My two detective characters Sam Burke and 'Twitch' Williams appeared in the very first issue of Spawn #1 back in 1992. Since then, they've become fan favorites and have branched out into their own comic series throughout the years."

"Their stories, blending traditional crime noir and the supernatural, is a combination that I've always thought would make for an entertaining television drama. The addition of wiip and the creative writing skills of Jason Smilovic and Todd Katzberg make for a very compelling team that we all hope leads to the entertaining show we know this can be. If you like cool, moody, creepy, odd crime stories, this will be your cup of tea!"
Eisner Award Nominations
This past week the 2021 Eisner Award nominations have been announced, and honestly there's just too much for us to summarise here. Some great creators and books have received nominations and if you're interested in the full list I'd recommend checking out San Diego Comic Con's breakdown here.